Vice President & Principal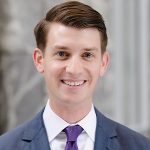 Jim is a Vice President & Principal with Slayton Search Partners. With over a decade of executive search experience, Jim is a core member of the firm's Retail and Consumer Goods Practice. Jim has successfully executed over 200 executive search assignments for Fortune 500, private equity-backed and family-owned organizations.
In addition to developing and expanding client relationships, Jim's expertise is in developing relationships with key and upcoming executives across the retail and consumer sectors. His ability to understand and execute upon his client's needs has led to the successful placements of executives within Merchandising, Supply Chain, Store Operations, Finance, Marketing, and Human Resources.
Prior to joining Slayton, Jim worked at another prominent, international search firm.
Professional Activities
Marillac St. Vincent Family Services
Education
Bachelor of Arts, Communication Studies, The College of Wooster